BRUNCH / 29€
Booking a table is highly recommended (see details below)
BREAKFAST

homemade granola & fromage blanc yogurt

~~~

& A CHOICE AMONG
"cake sportif" (healthy banana bread)
apple "chausson"
cinamon roll / babka
cookie
2 madeleines

~~~

one HOT DRINK

homemade chocolate
breakfast tea (by Maison Vérantis)
coffee (by Beans on Fire)

~~~

one FRESH DRINK

pressed orange juice
homemade lemonade
homemade seasonal fruit juice (+1€)
apple or apricot juice (by Coq toqué)
iced tea / tea infusion
sparkling water (Celtic)

~~~

one SAVORY DISH
check out the menu !
quiche "lorraine" or veggie quiche
& green salad

soup
& savory scone
(turmeric, emmental, seeds)

focaccia sandwich
pastrami by Will's Deli or cheese
homemade pickles, baked vegetables,
raw vegetables, salad

poched egg
bacon or cheese selection
homemade toast & salad
~~~
one DESSERT
On site or to take away !
Cheesecake, flan, tarte*, cookie, etc…
Have a look inside our shop,
for there are many choices 😉

* +1€ extra for some desserts of the moment
Our drinks
Organic and ethical coffee roasted by Beans on Fire, Paris 11ème
Semi-skimmed organic milk OR organic oat milk
Organic and ethical chocolate
Organic tea by Vérantis
Organic fruit juice by Coq toqué

Organic sparkling lemonades by Leamo / Organic tea by Tensai

Organic and craft infusions by Symples !!!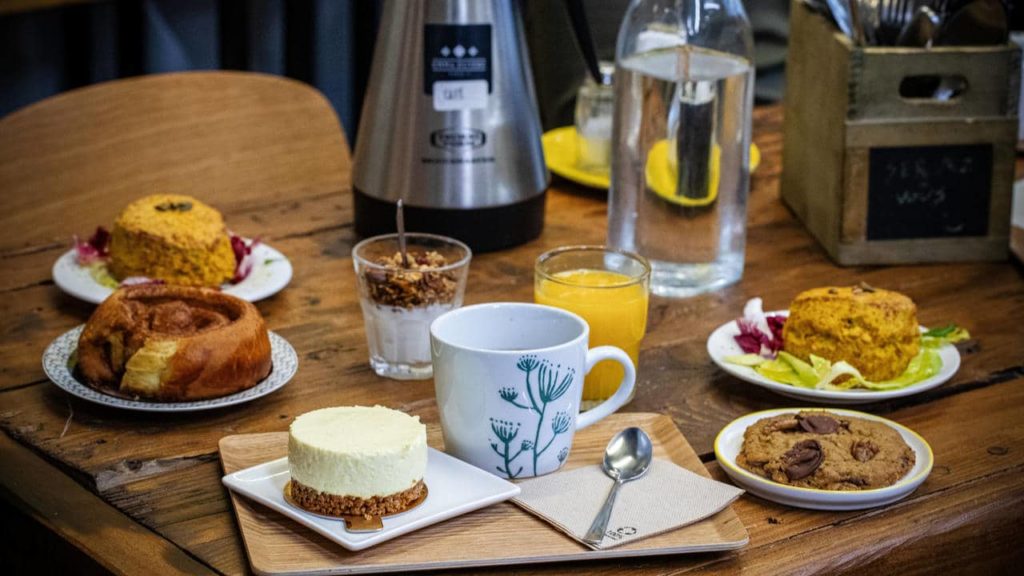 You can discover our brunch on Saturdays and Sundays from 11am to 3pm!
We strongly advise you to book your table. Phone : +33 (0)9 83 20 99 55
There are two lunch services : from 10:30/11:00am to 1pm OR from 1pm to 3pm. 6 people max.
These slots allow us to accept bookings, so please be on time when you book a table 🙂
EVERYTHING is homemade from A to Z on site, with the finest ingredients (organic, labelled…).
Our brunch is the perfect option to taste everything we make in Emma's lab.
Our shop is located on a cute and quite street away from common tourist sites in Paris. Here, you'll get a taste of local Parisian life in the Village Popincourt neighborhood.
---